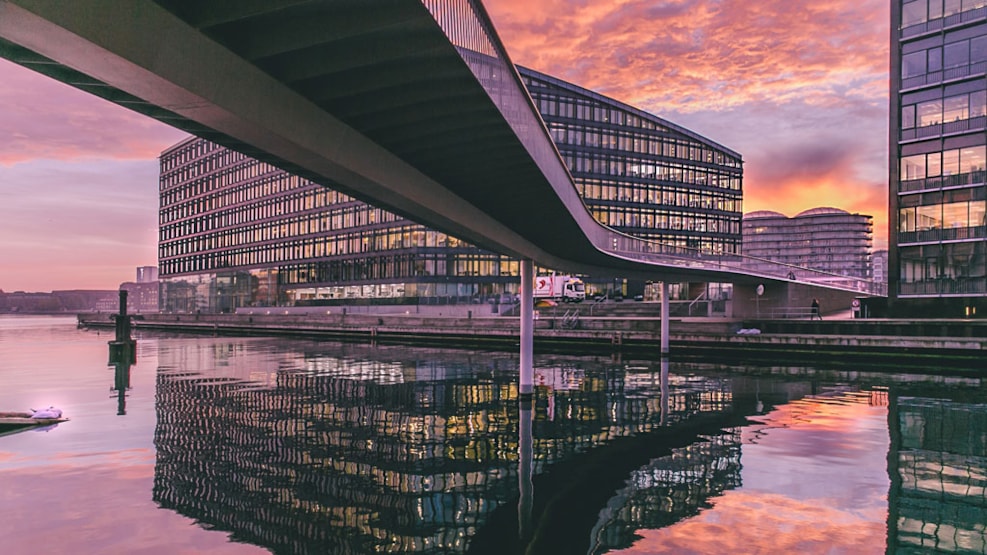 The Bicycle Snake
Iconic modern bike bridge on Copenhagen's harbourside.
Is it a bridge? Is it a snake? No, it's Copenhagen's iconic cycle bridge, The Bicycle Snake. The curving bridge takes cyclists across the harbour on an aesthetic ride above the water with great views.
If you're planning to take a bicycle trip around Copenhagen (which you should of course), don't miss out on this architectural masterpiece, which opened in 2014.
The Bicycle Bridge is a great example of what puts Copenhagen among the very best bike cities in the world. Its slender design and the experience it offers to cyclists stands out as a perfect contrast to the buildings and concrete between which it passes. It also brings together form and function in classic Danish style, making it easier and faster to get around the city. The bridge is designed by the company Dissing+Weitling - a company with roots in the Arne Jacobsen design studio.
The route
From the elevated beginning up on Dybbølsbro bridge, The Bicycle Snake takes you on a fun ride criss-crossing seven meters above one of the harbour baths in between Fisketorvet Shopping Mall and other buildings down towards the harbour with perfect vistas of the harbour and Copenhagen's many spires.
Once down at ground level, the bridge connects with Bryggebroen, another bike bridge crossing the harbour. You've arrived in Copenhagen's Islands Brygge after this short but beautiful ride from Vesterbro.