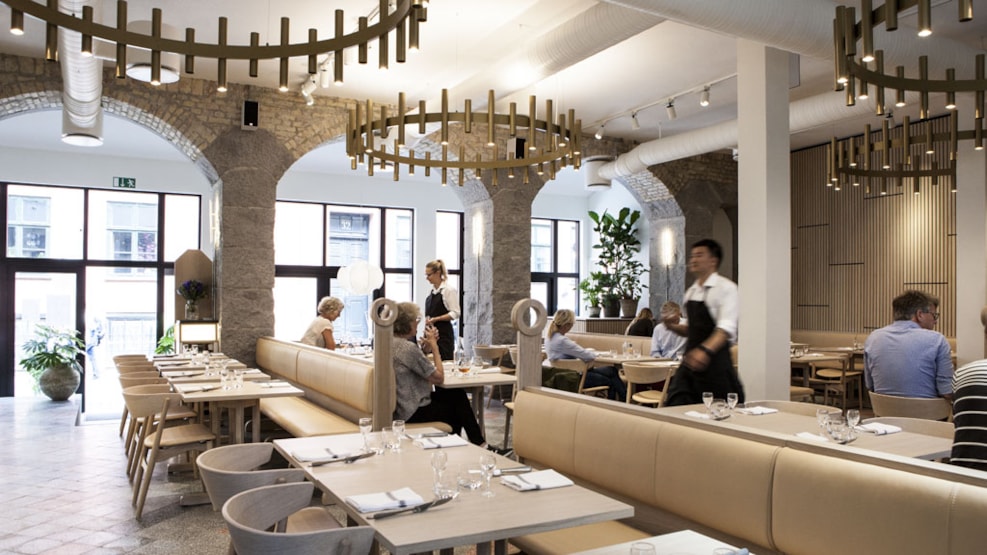 Green Experience
Aamanns 1921
The moderne gastro temple is ruled by one of Copenhagen's most renowned kings of smørrebrød, Adam Aamann. Expect some of the best smørrebrød in town - actually the best in 2019 according to the association of Danish food critics - but also gourmet dishes that leave the ryebread out prepared with ingredients you probably know but in flavour combinations you probably don't.
At Aamanns 1921 you're immediately met by light, modern design, high ceilings, terrazzo floors, bright materials and impressive brass chandeliers in the beautiful space which also features old stone columns and church-like arches. Like the interior of the restaurant, the smørrebrød, snacks and dinner dishes served are prepared in a modern style with traditional ingredients and in aesthetical fashion.
Aamann's two other smørrebrød establishments have always been loved by Copenhageners for their relaxed yet ambitious style, and acknowledged for constantly pushing the envelope to redefine the classic smørrebrød – but always with respect for the produce and flavours.
Aamann's 1921 is moving towards a more sustainable way of running a restaurant, and as of now, 60-90% of its produce used is organic, earning them an official Silver mark given by the Ministry of Food, Agriculture and Fisheries of Denmark
You'll find Aamanns 1921 in the very heart of Copenhagen, close to many major tourist attractions, great shopping and some of the city's most charming cobblestone streets and squares.